Infection Prevention Initiative
Zoe Harris and Bradley Morrison, two December 2016 graduates of the Nurse Residency Program, are on an infection prevention mission at Eastside Medical Center.
During a Joint Commission survey at our hospital in Snellville, Georgia, the graduates presented their performance improvement project, "Stop in the Name of Infection."
The project's goal is to eradicate surgical site infections by adopting Stop SSI protocol for joint replacement and spine surgery patients.
From Passion To Practice
Brad's personal inspiration for this initiative comes from a family member's recent story - A relative is currently suffering an infection following a total hip replacement at another hospital. He can no longer walk until the infection clears and physicians are able to insert a new prosthesis. This gave Brad the vision to combat infection rates through hospital-wide education and protocols.
Their "Stop SSI" protocol was developed from thorough research and evidence-based practices. Zoe and Brad made educated recommendations for Eastside's Infection Prevention Committee which were approved for implementation.
The project will be implemented throughout the hospital after final approval by the Medical Executive Committee.
Progressing the Profession
During the presentations, Joint Commission surveyors observed how Eastside uses performance improvement to drive nursing practice.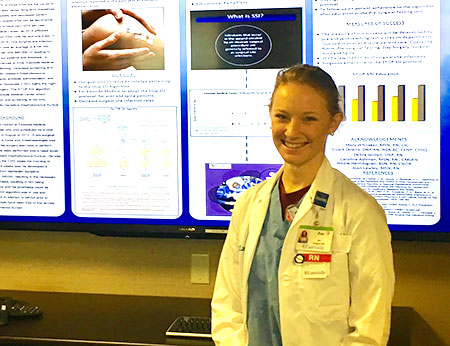 This project is testament to how changes in the nursing practice are addressed –
Identify the problem
Review the literature
Conduct research
Develop an implementation plan
Evaluate results
In our Nurse Residency Program, new nurse graduates are encouraged to use their education and passions to help further nursing care and improve quality outcomes. The Nurse Residents will complete an evidence-based quality improvement project at the end of the first year.