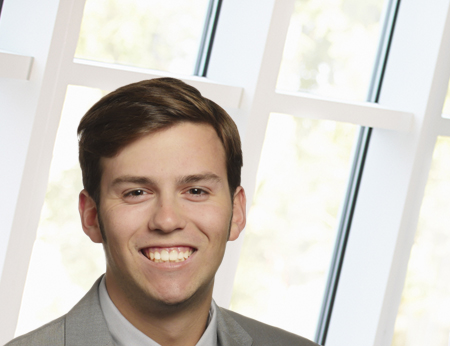 Q&A with Steven and Jonathan
In nursing, your teammates become your family. Especially as a new nurse, those relationships are crucial to your success. We sat down with Austin Peay State University alumni and new nurse resident, Steven Huffine, to find out how he is getting connected to his hospital family in Nashville in the first few weeks of his cohort. Steven joins his preceptor, Jonathan Haynes in the Critical Care track at TriStar Centennial.
Nurse Resident Perspective
Talk about the importance of your preceptor relationship.
SH: "Since the beginning of my nursing career I've heard stories about nurses being thrown into the field without the time to understand the 'why' behind their actions. The Nurse Residency Program provides dedicated nurses who ensure that we are fully educated in our care areas."
What is the most important thing you've learned so far?
SH: "During one of the first conversations I had with my preceptor, Jonathan Haynes, I learned one of the most valuable lessons that will stick with me throughout my entire nursing career. Johnathon shared with me, 'You're going to learn more information this year than you can imagine. However, I want you to know the why behind everything we do. Anybody can learn how to perform the tasks, but the nurses who know the why behind their actions make the biggest difference.'"
What is the biggest benefit of joining the Nurse Residency Program?
SH: "I believe that the Nurse Residency Program is pivotal in creating critical thinking professional nurses, and it is my pleasure to be a part of the inaugural cohort. The HCA Nurse Residency has already influenced me by providing opportunities to learn during weekly classroom sessions, as well as hands-on experiences in the simulation lab."
Preceptor Perspective
What is the most difficult thing for new nurses?
JH: "Going to work in a critical care unit (CCU) for any graduate nurse is a challenge in itself. There is a lot to take in, in a relatively short amount of time. We care for a variety of patients that are acutely ill, in most instances, and require significant amounts of medical assistance such as mechanical ventilation or vasoactive drugs to get back to their way of life. As a critical care nurse, we literally keep a lot of these patients alive until their bodies can recover."
How do you help your nurse residents?
JH: "As a nurse preceptor, it is my job to prepare the nurse resident to handle the intense situations that they are going to encounter, and to develop their critical thinking skills to make the right decisions when the time comes to be on their own."
How can nurse residents be successful?
JH: "Some key characteristics that make a good nurse resident are: being a hard-worker, having a good knowledge base of information, and above all else, not being afraid to ask questions. These are just some of the characteristics that Steven Huffine possesses as a new graduate nurse, and I am proud to call him a team member of the CCU here at TriStar Centennial."